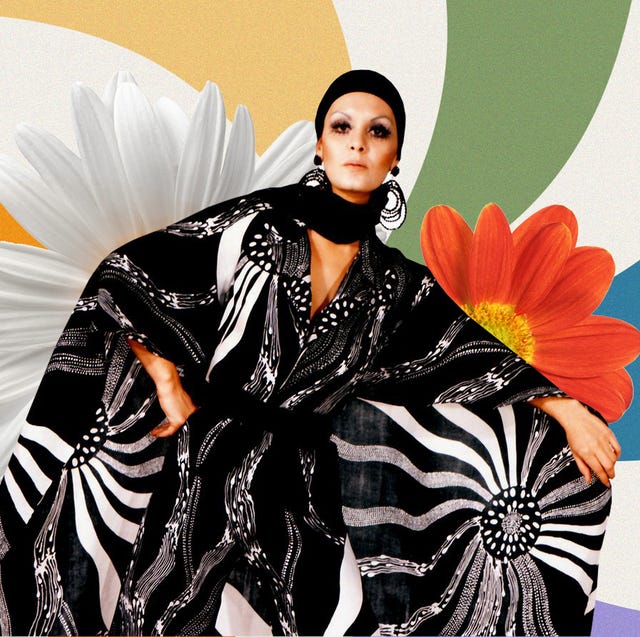 Getty + Design Leah Romero
No matter how you identify, as a '90s club kid or a Woodstock wannabe, everyone loves a little disco every once in a while. Just try to resist the pull of ABBA's "Dancing Queen" and let us know how it goes. While many of the fashion trends of the 1970s have justifiably faded (we're looking at you, soul patches), some are still stronger than ever. The era showcased a funky mix of popular '60s hippie styles with '80s fashion that had yet to land. sequins? Platform heels? Suiting? Yes please! Truth be told, 1970s fashion is some of its best, and the decade also has some of its greatest style icons. From Cher and Bianca Jagger to Diana Ross and Grace Jones, the clothing choices of these legendary stars still hold up today. In fact, they are even better. Here you will find some of the best examples of 70s fashion. Inspiration is sure to strike.
Announcement – Continue reading below
An Yves Saint Laurent pantsuit from February 1970.
American model Pat Evans wears oversized earrings.
Christian Dior presents his "Diorling" collection on January 14, 1970.
Glen Campbell's Good Weather Hour features a performance by Dionne Warwick in 1970.
Harlequin style trousers from March 1970.
Pop singer Shirley Bassey faces the press on the roof of the Dorchester Hotel in 1970.
Ali McGraw wears a bohemian maxi dress and lace-up sandals on June 5, 1970.
Mick and Bianca Jagger at their wedding at St. Anne's Church in St. Tropez on May 12, 1971.
Fashion models in brightly colored sport coats with matching hats and pants, from Guy Laroche's fall/winter collections (1971-1972).
Portrait of the Italian actress and model Daniela Bianchi in a long patterned dress in 1971.
Pam Grier poses for a photo circa 1972 in Los Angeles, California.
Activist, journalist, and feminist movement leader Gloria Steinem attends a fundraiser and rally for California State Senate candidate Catherine O'Neill (in plaid dress) on October 15, 1972 in Los Angeles , california.
Motown trio The Supremes perform at The Sonny & Cher Comedy Hour on September 22, 1972. From left to right: Diana Ross, Mary Wilson, and Lynda Laurence.
The American singer and showgirl Lola Falana stands on the stage of the television show Have you ever seen? in Italy, 1973.
The Shirelles perform in The midnight special in 1973.
Bianca Jagger and Mick Jagger on November 20, 1974.
Diana Ross poses for a portrait session on July 16, 1975 in Los Angeles, California.
Cher, fashion designer Bob Mackie and Cher's friend Paulette Betts attend The Met Gala in celebration of the "Romantic and Glamorous Hollywood Design" exhibit on November 20, 1974.
Lauren Hutton at the 47th Academy Awards at the Dorothy Chandler Pavilion in Los Angeles, California in 1975.
Princess Margaret on October 11, 1976.
Diana Ross at the second annual Rock Music Awards on September 18, 1976.
Farrah Fawcett wearing Nike Cortez sneakers in an episode of Charlie's Angels from 1976.
In a 1977 episode of Charlie's Angels, Farrah Fawcett wears a plaid blazer and flared jeans.
Diana Ross poses for a Motown commercial circa 1977.
An editorial image of model Iman taken in 1977.
Cher poses with a Bob Mackie creation on April 9, 1978 in Los Angeles, California.
Disco star and model Grace Jones in 1977.
Cher poses in another Bob Mackie design on April 9, 1978 in Los Angeles, California.
Grace Jones wears a tiger print ensemble in Chicago's Park West on October 14, 1978.
Cher poses for an album cover shoot for Prisoner in June 1979 in Los Angeles, California.
BLONDIE US punk rock band in 1979. Clockwise from top left: guitarist Chris Stein, singer Debbie Harry, bassist Nigel Harrison, drummer Clem Burke, guitarist Frank Infante and the keyboardist Jimmy Destri.
Joni Mitchell in the '70s.
Dionne Warwick in the 70s.
Goldie Hawn stands on a front lawn, circa 1970.
The Pointer Sisters in Cannes, France.
British model Twiggy wears an ankle-length white dress with a fitted apron at the front, inspired by an ecclesiastical surplice, circa 1970. It was designed by Bill Gibb.
At the Hollywood Rock Festival in the '70s.
A fashion editorial from the 70s.
A woman on a beach near Perth, Australia.
A crochet beach outfit inspired by the Maltese fishermen's nets.
Caroline Delevingne in a poncho, Earl Peel in a fur coat and Suzanne Scott in a tiger fur coat trimmed at the bottom with white fur.
Two looks from a collection by iconic fashion designer Courrèges.
Portrait of an unidentified model, dressed in a brocade trouser suit and matching hat.
Fashion designer Diane von Furstenberg and her then-husband, Austrian Prince Egon von Furstenberg.
A young woman in sparkly leggings sits on a flower-draped swing seat, circa 1970.
A maxi coat, for women and dogs.
The Italian television presenter, actress, singer and showgirl Raffaella Carrà wears a fringed swimsuit.
Model Hazel wears a printed playsuit and platforms from Ossie Clark's "Quorum" show in London.
Twiggy and her husband Justin de Villeneuve give a lesson in summer streetwear in July 1970.
Barbra Streisand plays a working girl from the 70s on the set of The owl and the pussycat (1970).
Donna Summer delivers flowers and furs, circa 1976.
Princess Anne smiles in a classic pea coat, trousers and a striking scarf at the badminton horse trials in South Gloucestershire, UK, on ​​April 25, 1971.
Meryl Streep redefines the elegant morning stroll in New York City, outside the Public Theater in 1979.
Pam Grier lounges glamorously poolside in Los Angeles, circa 1975.
Olivia Newton-John smiles behind a pair of oversized sunglasses, circa 1970.
Olivia Newton-John takes a "casual walk in the park" to the next level in London, circa 1970.
Carrie Fisher accessorized her natural surroundings in denim and a pair of 1978 Western-inspired boots.
Announcement – Continue reading below