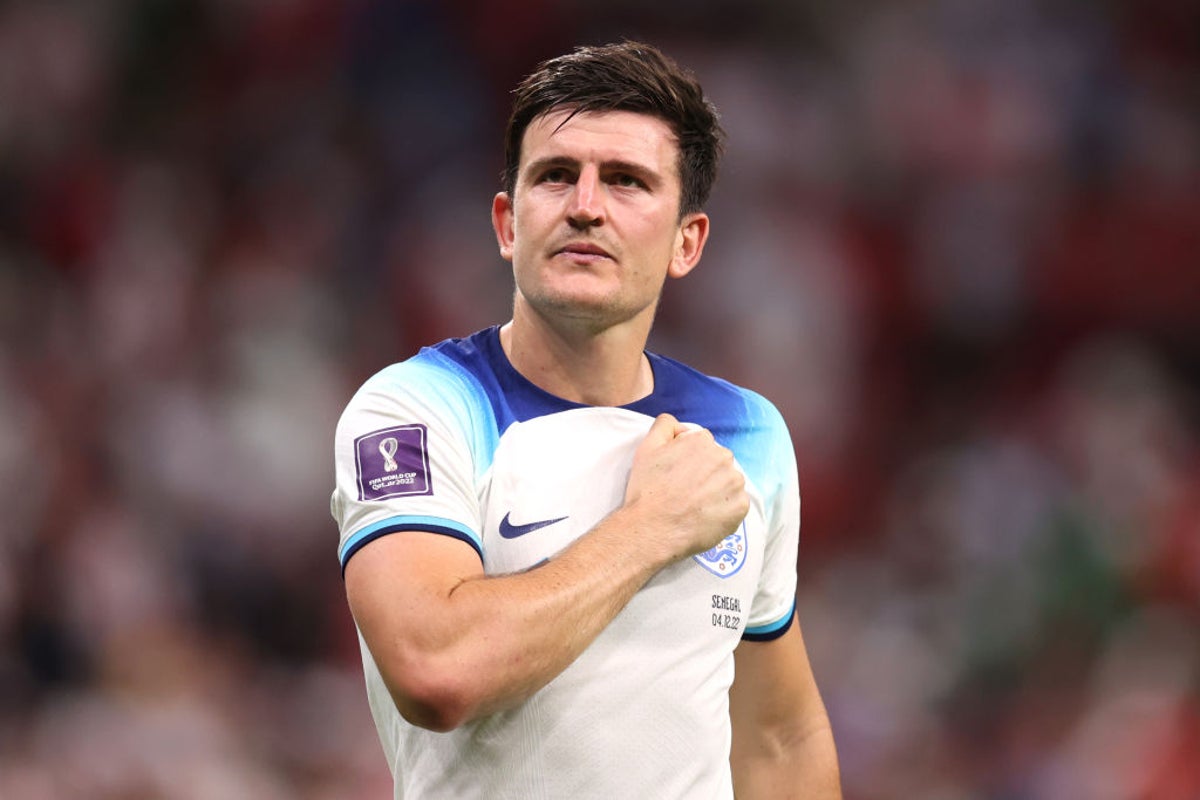 To avoid the monotony that can arise between games during the long weeks at a major tournament, England players have been passing the time by trying their hand at Werewolf.
A murder strategy game based on lies and deceit, those chosen as "wolves" have to kill as many "villagers" as possible, while the villagers have to spot and identify the wolves. One member of the squad has risen above the rest, revealing himself to be something of a super detective. "I'm pretty good at psychology, to be honest," admits Harry Maguire. "I've needed to be in the last year or so."
While Maguire attributes his prowess as a werewolf in part to an analytical mind, it's mostly due to past experience. "I've played it before too, I must say. When I was at Leicester we played a lot and the more you play the more you see. You get to see what people are doing, how they're acting."
And the England defender has discovered that those are transferable skills, if not on the pitch then certainly off it. "I think especially being in my position, it's really important to know who you can trust," he says. "You build relationships throughout your career and I feel like now I know who I can talk to, who I can trust. I have a lot of people I can trust, that's for sure."
The past year has been the most challenging of Maguire's career, a time in which he has had to keep his friends, teammates and those who believe in his ability close. He came to Qatar as the Manchester United captain, but not as a regular starter, his form problems ultimately costing him his place at club level. Many questioned whether he should be included in Gareth Southgate's 26-man squad, let alone keep his place at the heart of England's defence.
The criticism has been furious at times, coming from all sides, some more unusual than others. His defense was even mocked in the Ghanaian parliament last week when a member accused the vice president of being an "economic Maguire" who scored "own goals" against the country. Maguire has learned to cut through that noise and instead focus only on the opinions of those around him.
"First of all, I listen to people like my family and friends," he says. "My teammates, the staff here. I know how valued I am seen and felt within the camp and the team, how much value my teammates and staff believe I bring to the team. That gives me a lot of faith and confidence."
Maguire tries not to read social media and tells his family to stay out of it too, but, inevitably, the "bits and bobs" leak out. That's when he takes a step back and remembers how far he's come. "I am 29 years old, I am the captain of Manchester United and I have played 52 games for my country. When I look back on my career and put it all in perspective, if I was a kid, then I'm living the dream. I'm doing everything I ever wanted to do."
There is an admission that his form over the last year has not been the best, although his struggles must be placed in their proper context. "I think that during a race there is probably only Lionel Messi and Cristiano. [Ronaldo] who are the only two who have not had a dip in their careers. It's a 15-year career if you're lucky. No way, especially with all the scrutiny there is on defense these days, you're not going to have knockdowns."
In any case, Maguire's recent performances suggest that he is once again on an upward trajectory. Despite his lack of minutes at United, his form in the first four games of their World Cup has been exemplary, which repaid Southgate's unwavering faith in his abilities.
"I draw on past experiences. I entered the Eurocup after an eight-week injury, with no minutes at all. Maguire was named in the team of the tournament that summer. "I don't think he's proven a point," he adds. "I know what I am capable of. I have not hidden from the last year. It has been difficult, but I always knew and believed very much in myself that I would find my way and regain my confidence and focus. I'm very happy that it happened on the biggest stage, in the biggest tournament."
It was Maguire's performances at the last World Cup in Russia four years ago that made him a household name. Having watched England's abject Euro 2016 campaign as a fan in the stands, he quickly established himself as a fixture of the Southgate era. Everything was new for this team back then, and the run to the semi-final was a welcome surprise, but Maguire can sense that things have changed since then.
"I think that's the one thing I would say is very different from the 2018 team to this team. I think we really believe it's possible," she says. "I played in 2018 and we got to the semi-final and I think a lot of the guys were happy. You were happy to be part of the semifinal. You know that whatever happens in that semi-final, you would go home and you would be classed as a hero when you got home, you would have a good reception and everyone would pat you on the back. I think now there is a belief that we have to win this tournament."
That belief is coursing through Maguire again when he plays for England and it hasn't gone unnoticed in Manchester. The United captain reveals that Erik ten Hag and others have been in contact, congratulating him on his performances in Qatar via text message. In less than a fortnight, this will all be over, there will be no more Werewolf games, and the fight to reclaim his place will begin in earnest. Until then, there is a World Cup to win.
"In 2018, we probably weren't one of those teams that had that belief," he admits. "Now there are five or six who have that belief and we are one of them."