Discover spectacular new prehistoric species, three new islands, detailed buildings inspired by the Mediterranean, and an all-new campaign in Jurassic World Evolution 2: Dominion Malta Expansion.
Tied to the recent Universal and Amblin blockbuster Jurassic World Dominion, you will experience exciting new challenges and opportunities that greatly expand the scope of the film. Set just before the dramatic events of the film, you will help lead an ambitious company based in Malta. He works alongside Cabot Finch and key figures from the film including Kayla Watts (voiced by DeWanda Wise), Soyona Santos (voiced by Dichen Lachman), Barry Sembène (voiced by Omar Sy) and Lewis Dodgson (voiced by the voice of Campbell Scott) as you. establish parks on three sunny islands in the Mediterranean.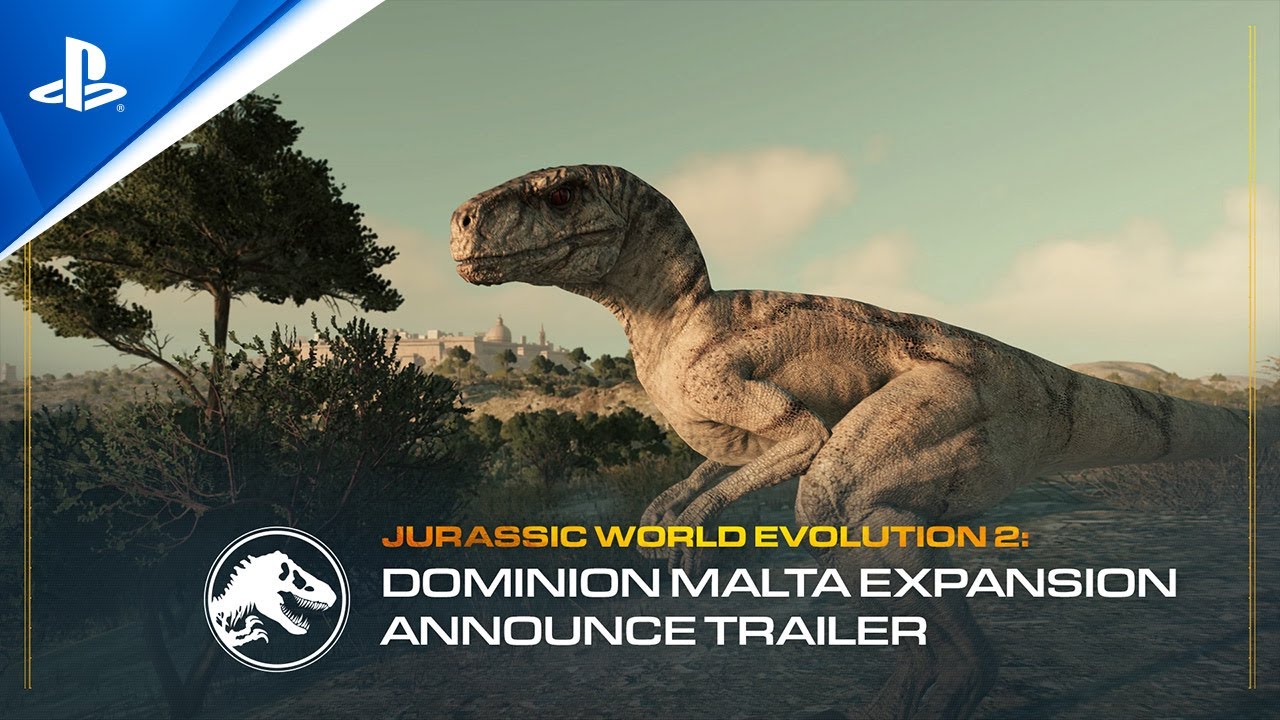 In Jurassic World Evolution 2: Dominion Malta Expansion, you'll establish key buildings, develop your sites, and trade on the dinosaur exchange to acquire more species, eggs, and even genome data. But be careful: both the authorities and the underground are very interested in your operation. Who you choose to align with will unlock more ways to expand your parks, so build trust with these organizations and you'll earn anything from hatchery upgrades to access to new islands. There are three in all, and progress is persistent on these islands. Switch between them on the fly, or even bring dinosaurs on the cargo ship – it's entirely up to you.
In addition to an in-depth new campaign packed with new gameplay features, Jurassic World Evolution 2: Dominion Malta Expansion, of course, brings you new prehistoric species, variants, and awesome skins, as seen in Jurassic World Dominion. Authentically created to mirror their film counterparts, these iconic prehistoric species are ready to provide guests with an unforgettable experience.
First up, there's the infamous Atrociraptor. Possibly even more dangerous than its Velociraptor cousins, the Atrociraptor has a bulkier body and squarer snout. Coloration varies greatly between individuals, so be prepared to choose.
Another species is the Lystrosaurus. A short, stocky herbivore with powerful forelimbs and an unusually shaped skull, which lived about 250 million years ago. The Lystrosaurus stands out for its fangs and its horned beak, which it uses to bite off pieces of vegetation.
Next up is Oviraptor, a smaller predator with a distinctive head crest and a unique feathered look. Originally believed to steal eggs from other dinosaurs, it was nicknamed the "egg thief", but has since been understood to be an omnivore, with a powerful jaw for its size.
And then there's Moros Intrepidus, a tiny carnivore and one of the smallest tyrannosaurs that ever lived. But don't take Moros Intrepidus lightly, despite being only a fraction of the size of its famous relative, the T. rex, it is known to be a fast and agile hunter.
Additionally, Jurassic World Evolution 2: Dominion Malta Expansion features impressive new variants and skins for the existing species. New variants of Iguanodon, Allosaurus, Dimorphodon, and the new Carnotaurus skin are inspired by their appearances in Jurassic World Dominion, so give your dinos a bold new look with these new patterns and colors.
From choosing your dinosaurs to designing your parks, the DLC pack also allows you to unleash your creativity with a new range of movie-inspired buildings. These include the new Acquisition Center, viewing gallery, hotel, and more. Seat your rangers, MVU, and capture teams in vehicles with new skins, and add exciting decorations to make your parks stand out. You can build in three beautiful locations in the Mediterranean and even take advantage of the game's first natural lagoon, perfect for aquatic species. All buildings in Malta are available to use in sandbox mode.
We can't wait for you to play our fifth feature-packed DLC for Jurassic World Evolution 2. Whether you want to take the movie further with authentically recreated dinosaurs and gripping narrative, or make your mark and develop a profitable park network in A rich and immersive campaign, Jurassic World Evolution 2: Dominion Malta Expansion is coming December 8 to PS5 and PS4.