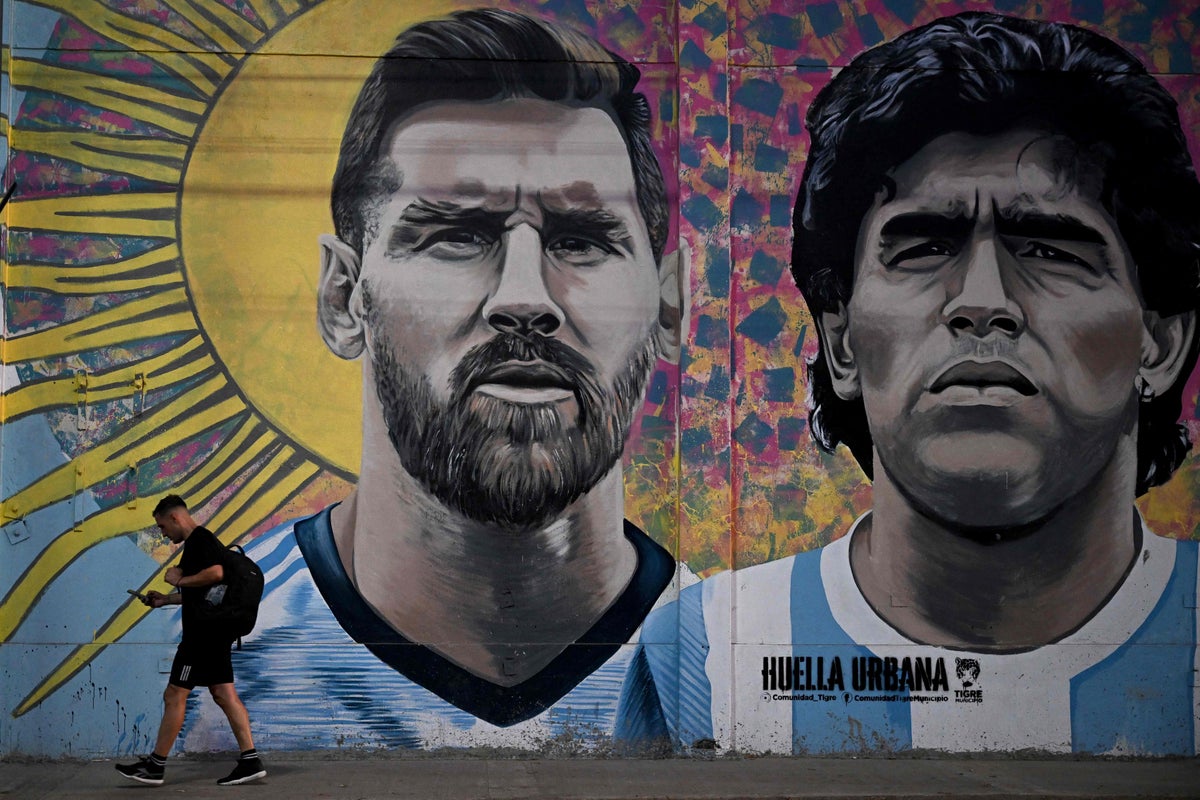 Lionel Messi has been on this planet for 35 years, five months and 24 days, and for most of that time he has dreamed of winning the World Cup. But around 8:00 p.m. on Sunday in Lusail he will stop dreaming; Whether Messi joins Pelé and Diego Maradona among the pantheon of legendary World Cup winners will be known, and he will never be rewritten.
From then on, he will either be the man who won the World Cup or the man who didn't, a career-defining match that is already full of moments, and the strange thing is that he can't do much about it. He'll have the ball at his feet for about 60-90 seconds over the course of the final, and the reality is that many of the finer details of the biggest game of his life will be out of his control.
At the end of it all, Messi's legacy may come down to a penalty shootout, and perhaps a single kick from someone else's boot. Ángel Di María delivered the winning touch of the 2021 Copa América final to finally win Messi an international trophy, and something similar could happen on Sunday; His destiny may lie with a teammate like Lautaro Martínez, a man who has mostly found himself lost in Qatar, controlling nerves from 12 yards out.
When we consider football greatness, we are really adding up two things: skill, talent or brilliance, and tangible achievement. They are intertwined but distinct. One is the journey, the other is the destination. One creates memories, the other leaves a legacy. One is on YouTube, the other on Wikipedia.
The first part, Messi's talent, has been proven time and time again, and if this World Cup has changed anyone's mind about whether Messi really is the best player of his generation, then he can't have been watching his career. . If he needs this final to prove his ability, then they must have lost his temper. If they needed his riveting semi-final dribble against Croatia to be convinced, then they must have forgotten about the slalom against Getafe in 2007; the Champions League goal against Real Madrid in 2011; the winner against Brazil in 2012. They must not have seen the Copa del Rey final against Athletic in 2015.
There are other modern players who have scored so many goals, like Cristiano Ronaldo; who have haggled with such grace, like Ronaldinho; who have shown such precise spatial awareness, like Zinedine Zidane; but no one can claim to have done all these things, at this level, for so long.
Messi has been supreme in all contexts: dribbling, passing, shooting from near and far, when the ball is on the move and when it is stationary. He has reached the highest level of football awareness and has visited the deepest wells of understanding. He intuitively knows the ball's relationship to gravity when he lifts it over a wall, the bounce he'll make when he hits his knee on the run, how he'll react to the slightest touch at full speed. Said in his simplest terms, no one has ever mastered football like Messi.
And yet his achievements are incomplete. The space of his trophy case raises doubts, he questions it. Pelé won three World Cups. Maradona swept an otherwise disliked group of players to glory in 1986. The Ronaldo Phenomenon lost, came back and won four years later.
Does Messi need to win the World Cup to achieve greatness? Surely a lone party, a decade after its heyday, should change nothing. After all, this is Bonus Messi, Extra Time Messi. We've gotten drunk on the wonder of Messi time and time again and these are just the heady last drops. He's already scored or created more than a thousand goals, he's won a stack of major club trophies, seven Ballon d'Ors and one Copa América after losing three resounding finals. He has now reached two World Cup finals, and the outcome of Sunday's match depends only in part on his influence. Isn't that enough?
It all comes down to our interpretation of greatness, how much we believe individual ability requires team achievement to be meaningful; if the talent must be transformed into something concrete, something that can be touched. Neymar's wonderful quarter-final goal against Croatia was the iconic moment that defined his career and affirmed his life for some 13 minutes. Then Bruno Petkovic scored, and Brazil was eliminated, and it was forgotten. If Argentina lose to France, then perhaps the same will happen with Messi's inspiring moments at this World Cup, relegated to the corners of history.
Perhaps Messi's place among the soccer gods demands the World Cup. But if he misses, or leaves a giddy Theo Hernandez behind, sends Ibrahima Konate into an existential crisis and passes the ball over a stranded Hugo Lloris to win the game, don't change your mind about his brilliance. Because if you do, you haven't been paying attention.