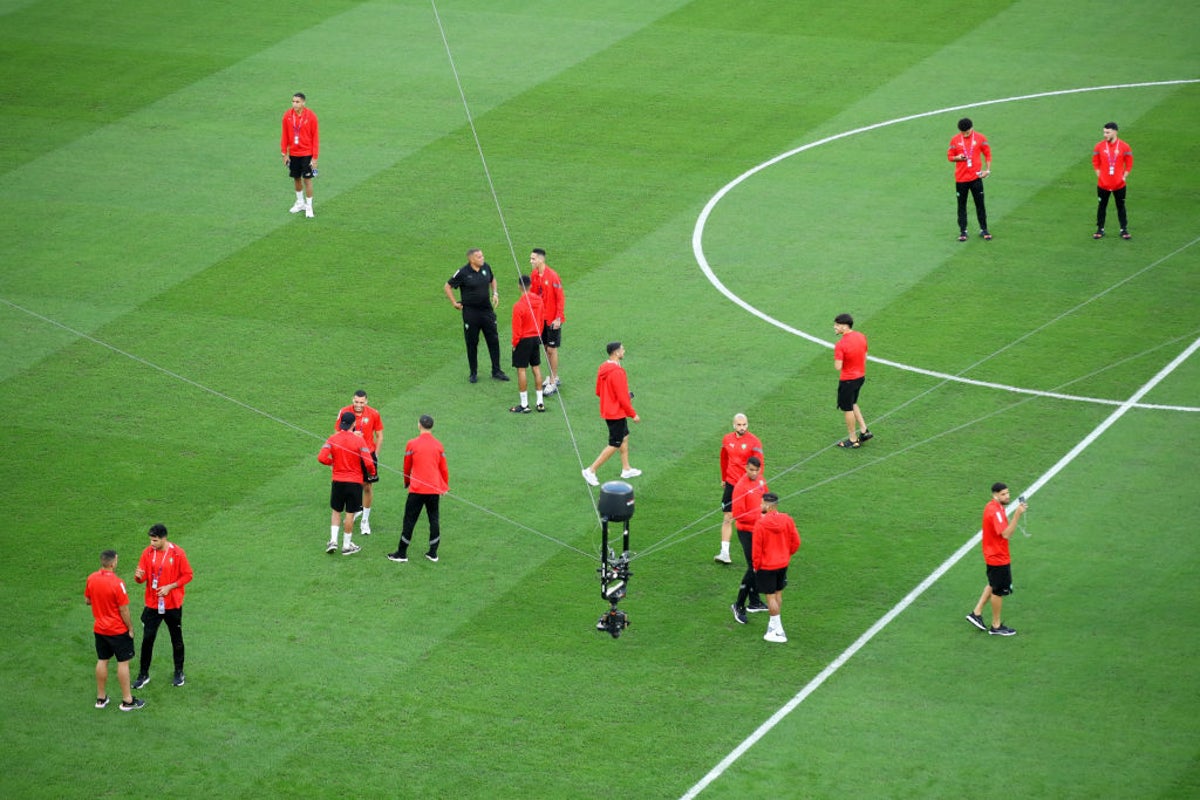 Brazil players hold the Pelé banner after the World Cup win against South Korea
Morocco plays Spain in the World Cup round of 16 in Qatar today, with the winners facing either Portugal or Switzerland in the quarterfinals.
Spain finished second in their group despite beating Costa Rica and drawing with Germany, due to a shock loss to Japan on their last round of the first round.
Meanwhile, Morocco stunned Belgium and beat Canada after an opening draw with Croatia, topping their group to set this tie with 2010 champions Spain.
Later today, Portugal will face Switzerland in the last round of 16 match of Qatar 2022, with the victors of that matchup playing the winners of this match in the next round.
Follow all the action with our live blog below
1670338184
Morocco vs Spain
The Moroccan team seems to be united and determined not to be thrown out of the tournament this afternoon. They face a very good Spanish team, so things will get complicated for them.

However, they have a lot of support inside the stadium and a good group of players who will give it their all. Can Morocco really beat Spain?
michael jonesDecember 6, 2022 14:49

1670338004

michael jonesDecember 6, 2022 14:46

1670337824
Will Morata score again?
Álvaro Morata has scored in each of his last three World Cup appearances for Spain, despite playing a total of just 126 minutes in those games.

The only Spanish player to have scored in four consecutive World Cup games is David Villa in 2010.

If he wants to match that record today he will have to do it as a substitute since Luis Enrique has decided to put the striker on the bench.

michael jonesDecember 6, 2022 2:43 PM

1670337584
Morocco vs Spain
Morocco is the last remaining African team in the World Cup.

Extra flights from Morocco to Qatar were put in after reaching the round of 16 and last night more than 1,000 Moroccans gathered at the box office waiting to see today's game.

There were reportedly some altercations and riot police got involved.

The Moroccan embassy says it has handed out 500 tickets to Moroccans living in Qatar and FIFA has made an additional 5,000 tickets available for Moroccan fans.

michael jonesDecember 6, 2022 2:39 p.m.

1670337344
Morocco vs Spain
Morocco is unbeaten in its last four World Cup matches (with two wins and two draws).

The only African team that has gone five consecutive World Cup games without losing is Cameroon (two wins, three draws between 1982 and 1990).

michael jonesDecember 6, 2022 2:35 p.m.

1670337104
Morocco vs Spain
Fans are itching to go for this one. Kickoff is 30 minutes away and the atmosphere is building very well at Education City Stadium.
michael jonesDecember 6, 2022 2:31 PM

1670336864
Morocco vs Spain
Morocco participates in the round of 16 of the World Cup for the second time, they also reached the round of 16 in 1986, where they lost 1-0 to Germany.

Can they reach the quarterfinals this time?

michael jonesDecember 6, 2022 14:27

1670336624
Today's World Cup: Spain aims for the quarterfinals and Fernando Santos is unhappy with Cristiano Ronaldo
The World Cup 2022 quarterfinal lineup will be finalized on Tuesday, with the remaining spot to be filled by the winners of Portugal v Switzerland and Morocco v Spain.

Here, the PA news agency looks back at the last day of action of the round of 16 in Qatar, and how it played out on Monday.

michael jonesDecember 6, 2022 14:23

1670336384
Hakimi on facing Spain
"Four years of experience since then have meant that I have come in with a more mature mindset," Hakimi said in preparation for today's match.

"Spain is a top 5 team and they always come to the World Cup to win, but our coach has also taught us to have a winning mentality. It doesn't matter who we play against. We are going to play our way and try." to beat them

"We finished top of the group and I think we deserve a bit of respect. I think Spain knows that and they have to be a bit afraid of us. Why can't we surprise again?"

michael jonesDecember 6, 2022 2:19 p.m.

1670336144
Hakimi hoping to cause an upset
Moroccan defender Achraf Hakimi expects his team to surprise this afternoon and eliminate Spain from the World Cup.

Hakimi, who was born in Madrid and was selected for Spain's youth teams, said: "It's something unique to play for your country and especially now that we're making history.

"It's incredible to see how people are experiencing it with us, and that energy transmits a lot to us and gives us the strength to continue and seek to do great things."

michael jonesDecember 6, 2022 2:15 p.m.