Astral Eclipse is the final event in the Pokémon GO "Season of Light", which brings new features and challenges to Trainers. Pokémon GO is an augmented reality mobile game created by Niantic and Nintendo in 2016 as part of the Pokemon franchise, which has been popular with fans ever since. The Astral Eclipse event will take place from Wednesday, November 23 at 10:00 am to Monday, November 28 at 8:00 pm local time.
The astral eclipse event in Pokémon GO introduces the legendary Lunala (the Pokémon Moone) and Solgaleo (the Pokémon Sunne) to the game. In addition, the event adds the last step of Special Research on Cosmog in Pokémon GO, which allows players to evolve the Pokémon to its final stage. The Astral Eclipse event also increases the spawn rate of Alolan Pokémon and offers players a new collection challenge.
Related: Mega Houndoom Pokémon GO: Raid Guide (Counters, Movesets)
Astral Eclipse Event Features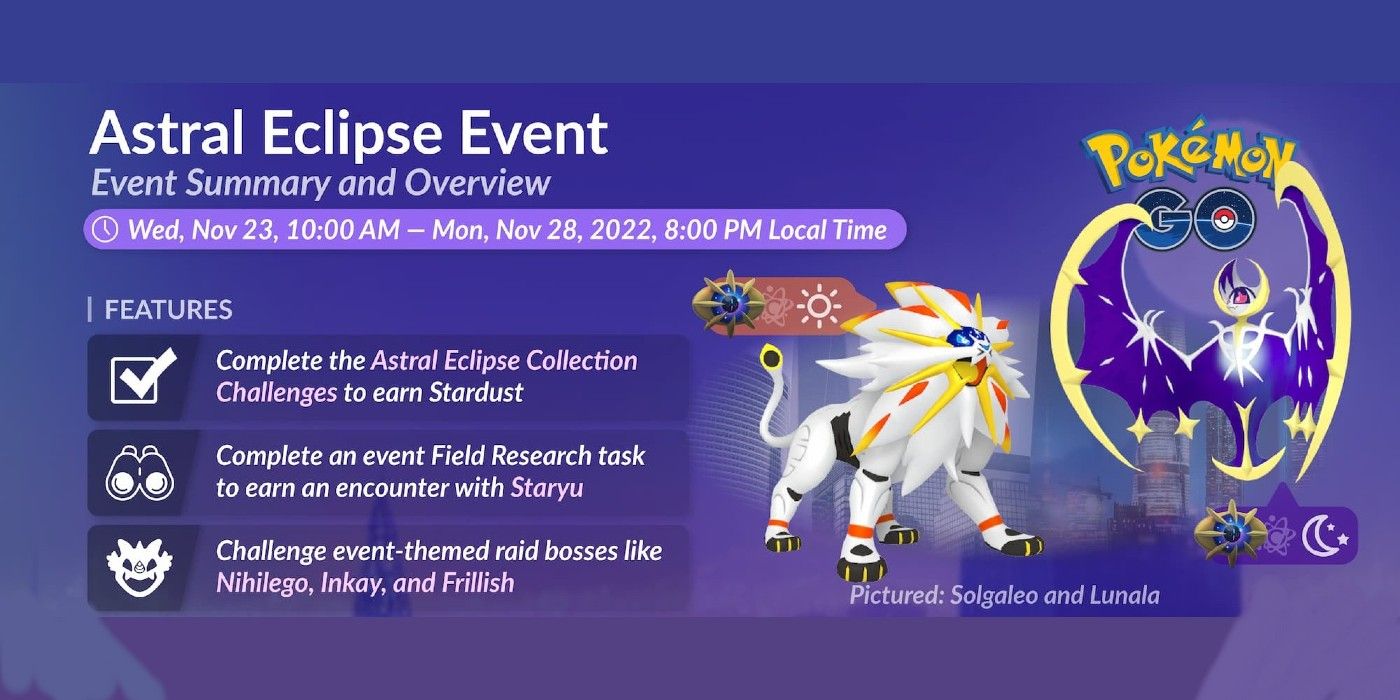 pokemon debut
Pokémon GO welcomes two new Pokémon making their debut during the event: Solgaleo and Lunala. Players can use 100 Cosmog candies during the day to evolve Cosmoem into Solgaleo. Alternatively, players can use 100 Cosmog Candy at night to turn Cosmoem into Lunala.
hazy skies
for the last time in Pokémon GO this season, the skies of Nebula will appear during the Astral Eclipse event. This means that players can find a hazy sky in Pokémon GO in lieu of the normal evening scene periodically throughout the season. Therefore, players should keep an eye on the horizon if they hope to see these exciting changes.
Arrival of the Ultra Beast: Global
Pokémon GO The Astral Eclipse event overlaps with the Ultra Beast: Global events, giving players the chance to team up with other trainers from around the world for some extra rewards. Between 11 am and 5 pm (local time) on November 27, players can anticipate the arrival of Ultra Beasts, which are mysterious life forms that appear in large numbers that players may have already encountered. Pokémon Trainers from far and wide are being called upon to complete this new challenge.
Increase in wild encounters during the astral eclipse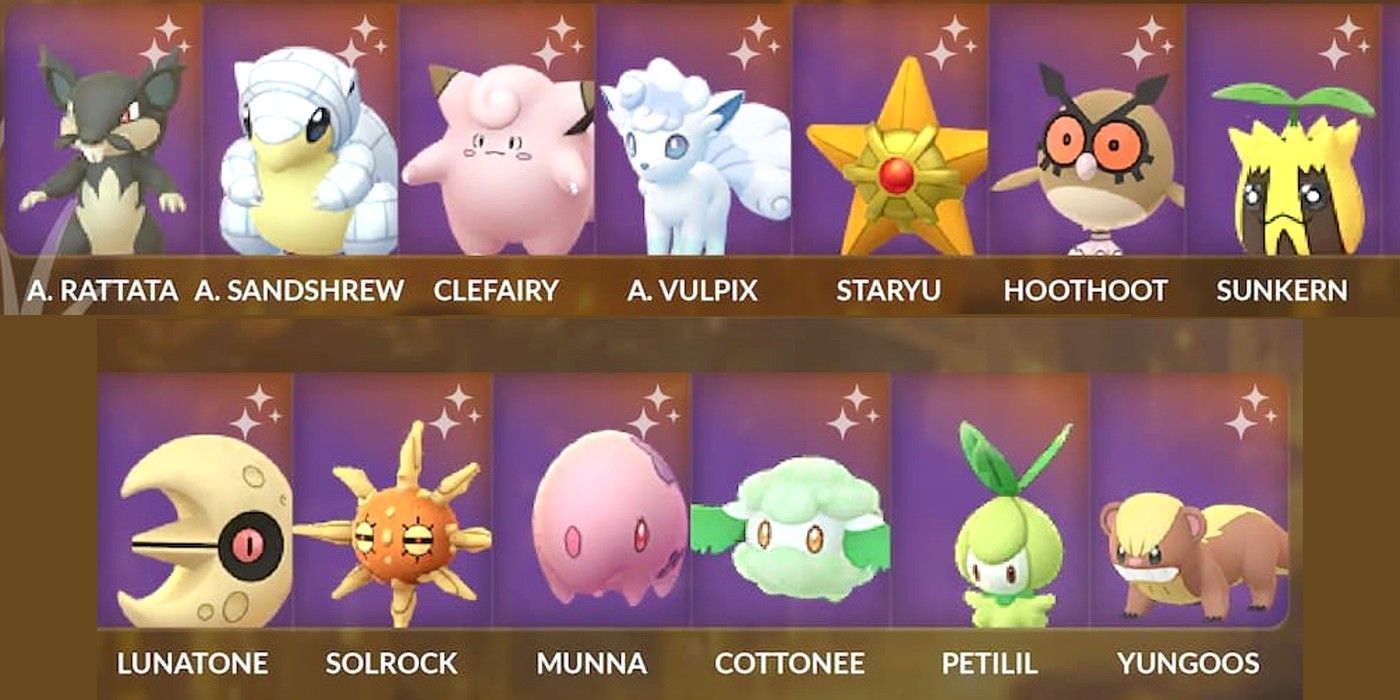 During the Astral Eclipse Event in pokemon go, various Pokémon have a chance to appear more frequently in the wild. This includes varieties such as Alolan Rattata, Alolan Sandshrew, Clefairy, Alolan Vulpix, Staryu, Hoothoot, Sunkern, Lunatone, Solrock, Munna, Cottonee, Petilil, and Yungoos. If players are lucky, they also have a chance to encounter a shiny version of any of the Pokémon listed here (except Petilil).
Raid targets during the event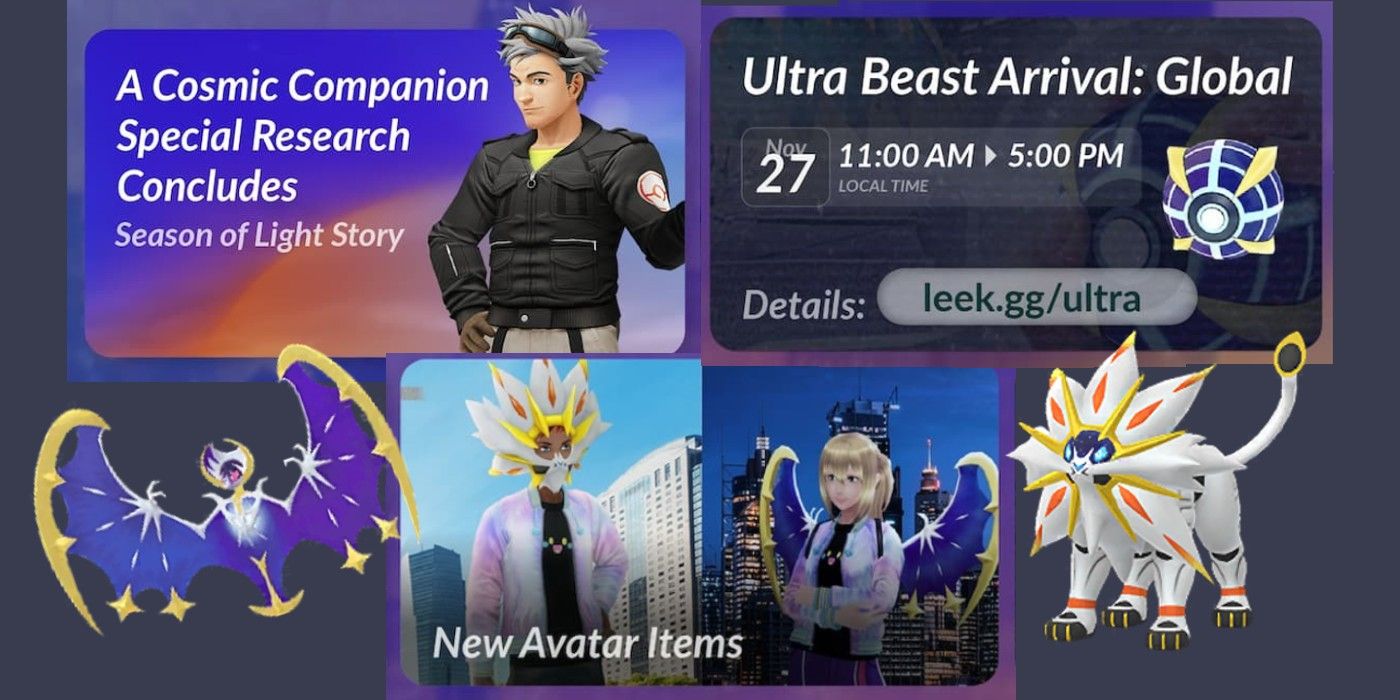 Certain Pokémon also appear in Raid Battles during Pokemon WE GO's Astral Eclipse Event, and lucky players might even find a Shiny version (minus certain exceptions). One-Star Raid encounters include Drifloon, Frillish in Pokémon GO (who has no chance of being Shiny), Inkay and Rockruff. Three-star raids include Tentacruel (which has no chance to be shiny), Druddigon, and Hisuian Braviary. Five-Star Raids will see appearances from Nihilego (who also has no chance to be Shiny), and Mega-Raids will feature Mega Houndoom.
Astral Eclipse Field Research (and rewards)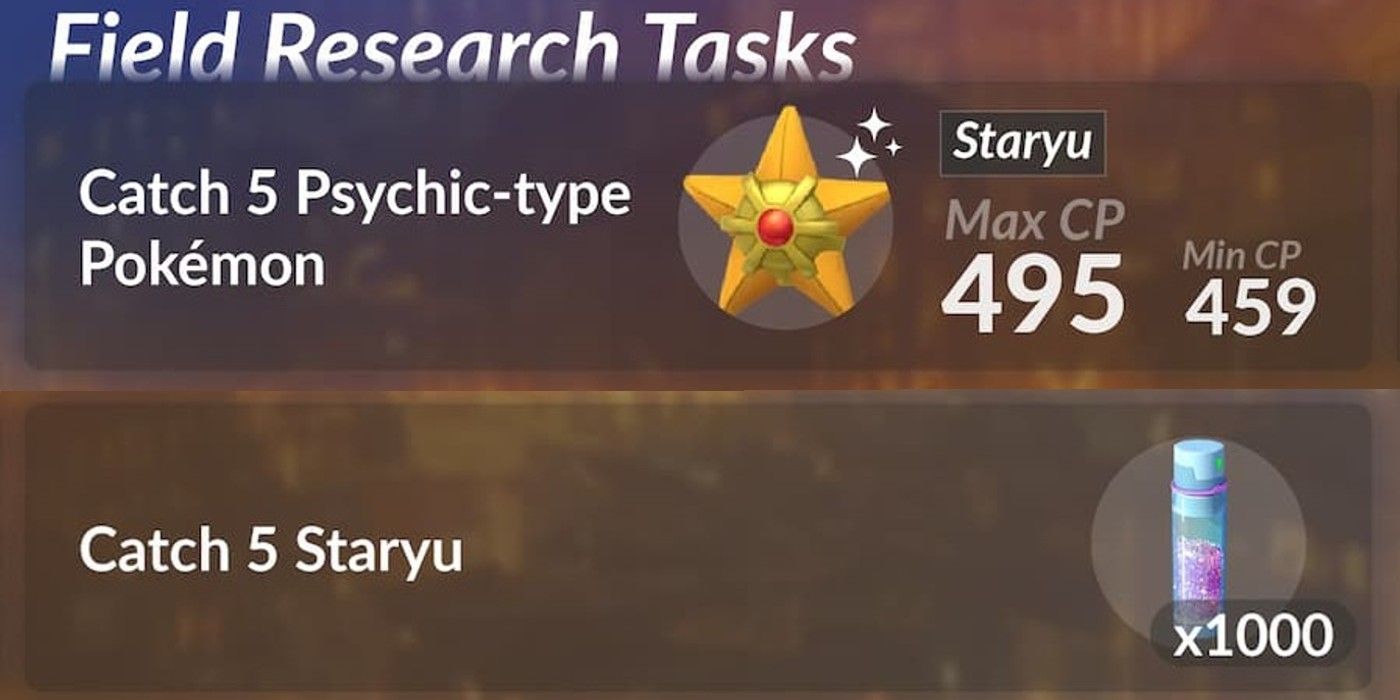 Event-exclusive Field Research tasks will be available during Pokémon GO Astral eclipse. Catching 5 Psychic-type Pokemon during the event will grant players an encounter with Staryu, and catching 5 Staryu will reward players with 1000 Stardust. When attempting to complete these tasks, lucky players might come across a Shiny Staryu.
Collection challenges available during the astral eclipse
Sun Astral Eclipse Challenge
Pokémon GO The latest event brings collection challenges that players can complete for Stardust. For example, by completing the Astral Eclipse Sun Challenge, players can catch a variety of day-oriented Pokemon, including Solrock, Yungoos, Sunkern, Cottonee, Petilil, and Alolan Vulpix. Players who complete this challenge will receive 3,000 Stardust as a reward.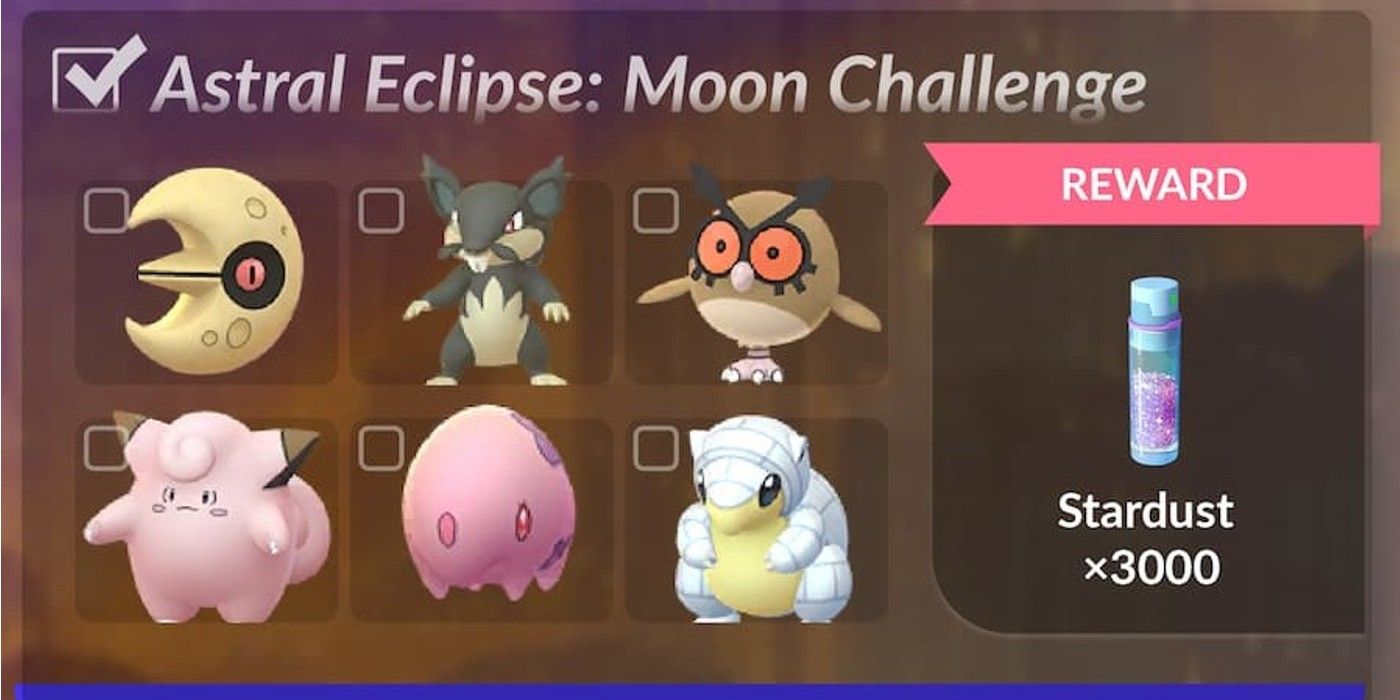 Astral Eclipse Moon Challenge
During the astral eclipse, Pokémon GO fans also have the option of completing the Lunar Challenge, in which they will receive rewards for catching Pokémon related to the night. These Pokémon include Lunatone, Alolan Rattata, Hoothoot, Clefairy, Munna, and Alolan Sandshrew. The reward for completing this collection challenge is also 3000 Stardust.
Avatar items for sale during the event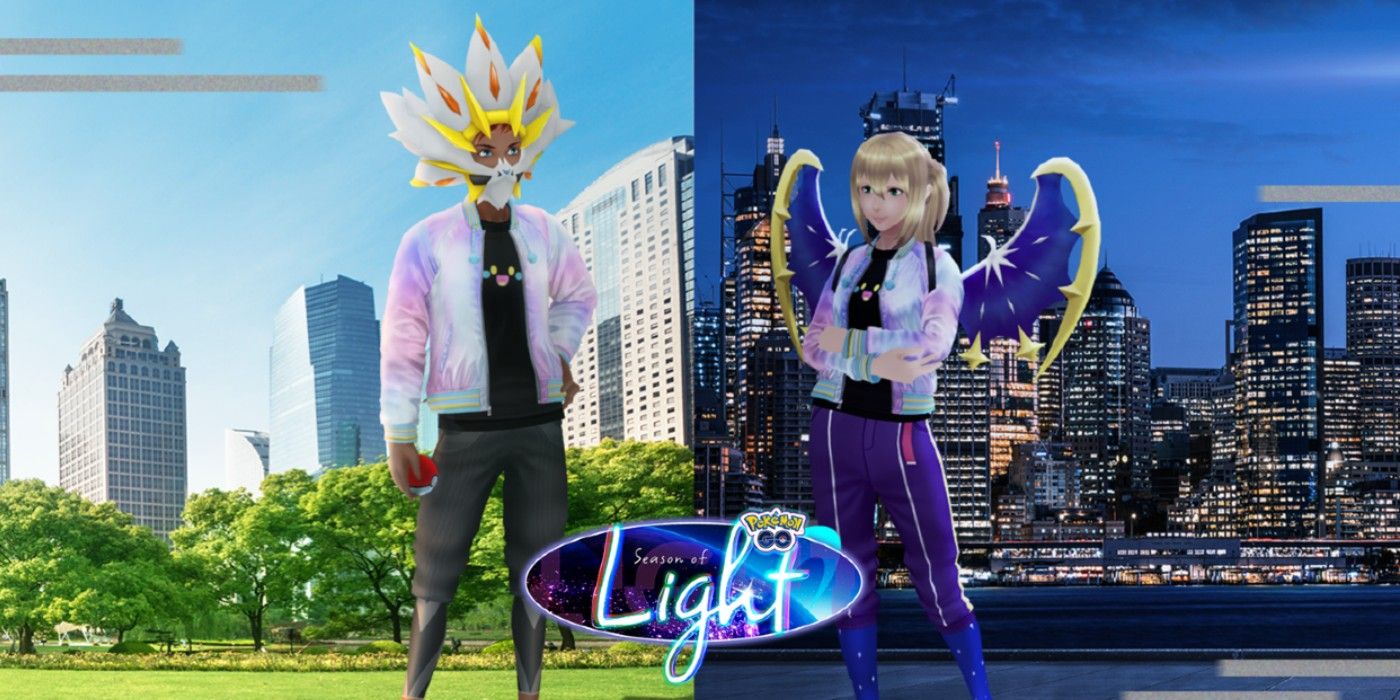 Pokémon GO's Astral Eclipse Event will put various items for sale for your avatar in the in-game shop. These items include Lunala Wings, Solgaleo Mask, Lunala Pants, Solgaleo Shoes, and Galaxy Socks. While players should rush to the store to get these parts, these cosmetic items will still be available after the event ends for those who miss out.
More: How to Do the Quick Catch Trick in Pokémon GO
Pokémon GO

original release date:

2016-07-06

Developer:

The Pokémon Company, Nintendo, Niantic

Gender:

Augmented reality

Platform:

Android iOS

Editor:

Niantic, Nintendo

ESRB:

me