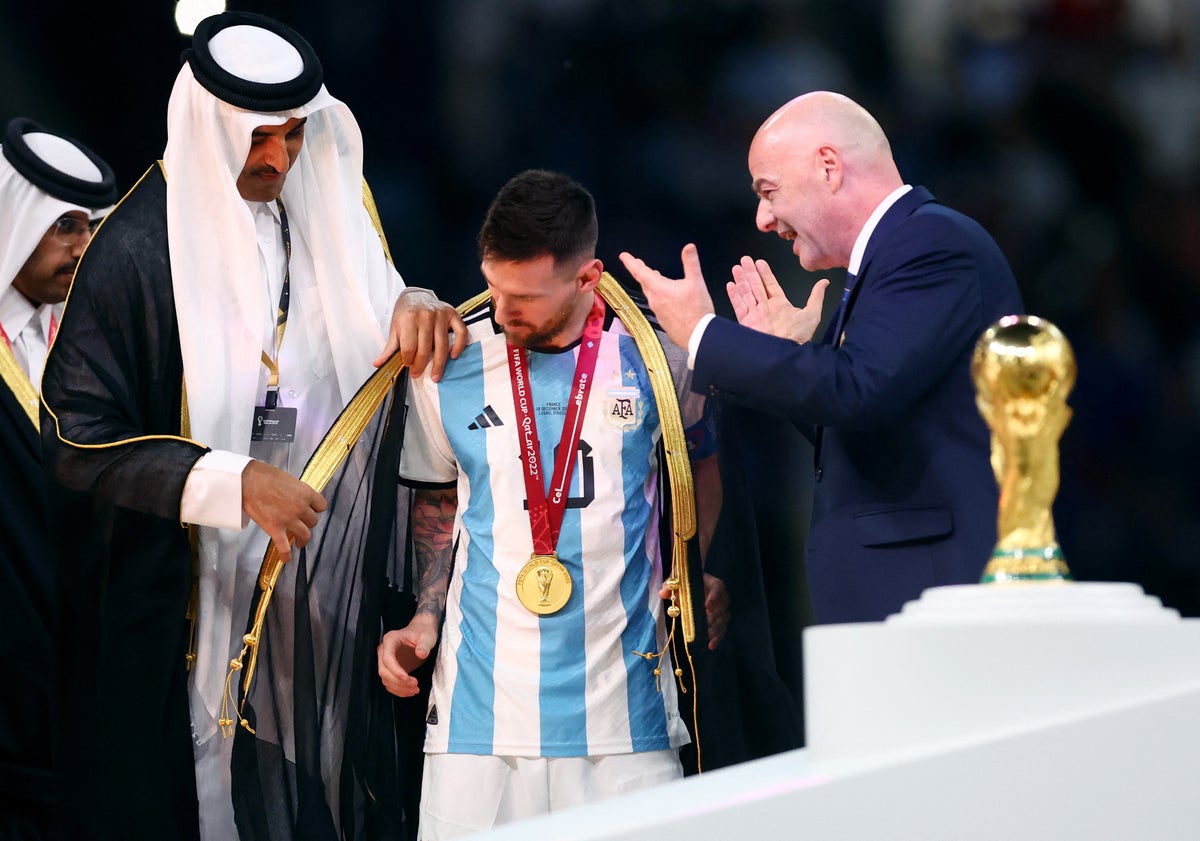 It was a moment that Lionel Messi had imagined all his life, and has long held images of it in his head; they may not have looked much like this.
When the Argentina captain finally went to lift the World Cup, the shield of his team was not visible and the famous blue and white stripes were barely visible.
That was already unprecedented for a time of such symbolism that teams often insist on changing into their home jerseys if playing in away colours. It was exactly what Spain did in 2010.
That iconic jersey wasn't really visible on Messi though, because he was wearing a bisht. It is a garment that Middle Eastern dignitaries wear during a thaw on formal occasions, as a sign of special achievement.
It must be recognized right away that this could have been quite a beautiful thing.
It is simply impossible to separate it from the complicated context. Messi was awarded the bisht by Qatar's autocratic ruler, for the most visible moment in history, at the climax of a competition that this autocracy has been using for political gain.
That is inherently political, to say the least.
He assured that, at the Argentine moment, there was the Emir's gift, front and center. That, by extension, put Qatar front and center, forever associated with this immortal image in a way that had been the grand calculus of this entire tournament.
It's the same idea that means Doha is forever associated with great goals and moments, just like the Azteca, say, with Diego Maradona or Pelé. It ensures that the broader discussion on Qatar is watered down by these positive images. It's something subtly powerful.
That's why this is one final act of sports washing.
There have already been some significant counterarguments and pushbacks to that, in a way that has happened throughout this World Cup.
One is that bisht is common throughout the Middle East and not just in Qatar, so this should only be seen in terms of culture and obviously a great honor.
That is true, of course, but it is not about the garment or the gesture. It is about who is doing it, why and when.
Again, that it came from the ruler of an autocracy means that it is deeply political. Nothing in this World Cup can be free of politics.
As a human rights activist who has worked in Qatar and the Middle East in general said to Independent, "is a clear attempt to foreground the host over the winners, and of course the accusation of orientalism is its flaw. It's pretty obvious what they're doing and why."
A similar response is relevant to the widely circulated photo of Pelé wearing a sombrero at the Azteca in 1970.
It was not at the iconic moment of lifting the trophy, having been given an autocratic ruler.
The actions of these types of leaders should not be so gleefully overlooked. No previous captain has been given anything by a figure of such power at the time of winning the trophy.
Many will also point out the benign nature of the gesture.
It may be soft, but that is the goal of soft power.
There are more complicated elements to this, too.
Messi is a player for Paris Saint-Germain, which of course is owned by the Qatari state. The Argentina captain is also a tourism ambassador for Saudi Arabia.
In the midst of all this, it is impossible to say that it was a simple cultural honor. It was a symbolic moment, in a World Cup that has focused as much on image as anything else.
Qatar has spent a lot, up to $220 billion. You now have an image that goes beyond value.