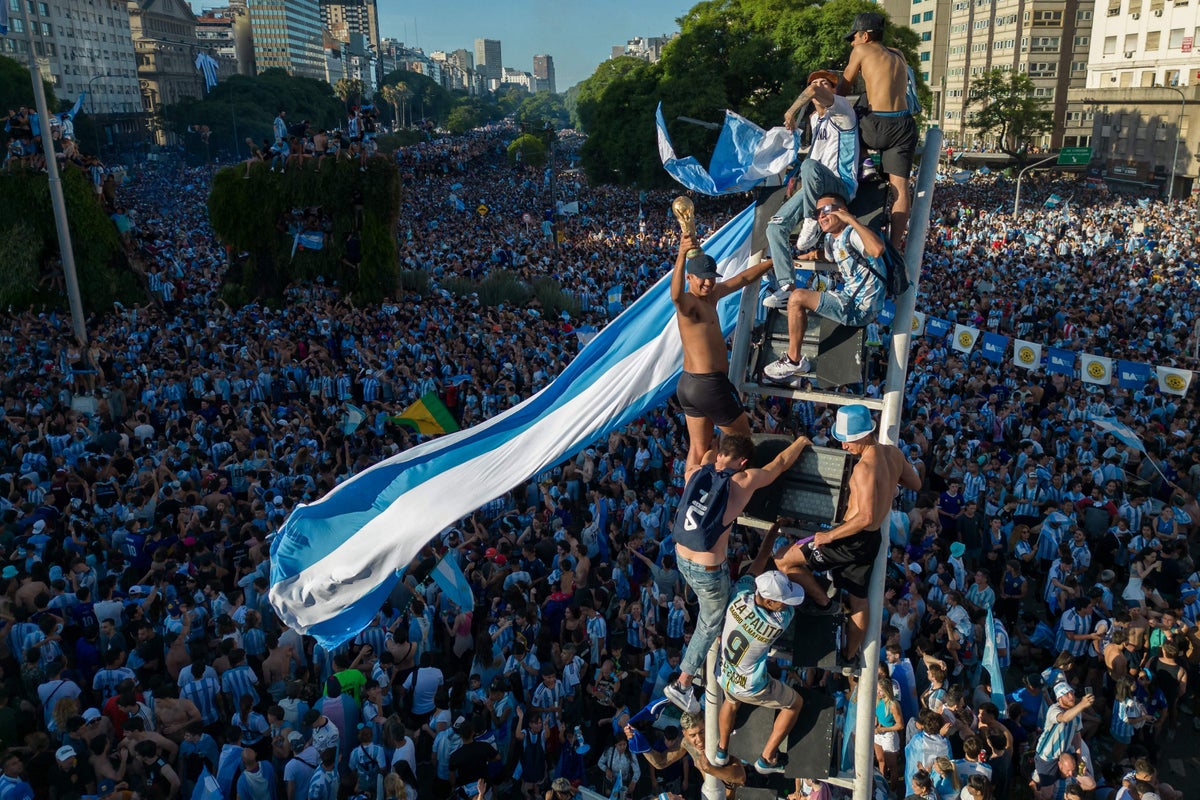 The Argentines cut loose on Sunday and streets across the country became venues for celebration after an epic World Cup final in which the team beat France on penalties.
It was the country's third World Cup title and first since 1986.
"I am very happy, we really deserved it. The team suffered a lot, but it recovered with the passage of time," said Josefina Villalba, a 55-year-old babysitter who joined hundreds of fans in one of the many public squares where giant screens were set up to watch the feature film. expected match.
Millions of Argentines cried, shouted and hugged each other as they followed the game, which was a roller coaster of emotions.
"I feel immense happiness in my heart because this is the first World Cup that I really enjoy," said Hector Quinteros, a 34-year-old security guard, his eyes brimming with tears. "This always happens. They always make us suffer."
At the end of the first half, many were preparing to celebrate as Argentina led 2-0 and clearly dominated the match, but that initial happiness turned to anxiety as France responded, eventually taking the teams to extra time and then penalties.
For many, the harrowing feelings of the match made victory all the sweeter.
"When you suffer so much for something, the satisfaction is greater," said Fabio Villani, a 45-year-old video editor, noting that he still couldn't believe Argentina had won a World Cup title.
It also felt normal for Argentina, a country known for its seemingly endless economic crises.
"Suffering is a very Argentine thing," said María Isabel Ayala, a 53-year-old hairdresser. "If we suffer, it is because we truly feel it in our hearts."
The national team led by captain Lionel Messi has managed to unite Argentines with a rare joy in a country that has been economically stagnant for years, suffers from one of the highest inflation rates in the world and almost four out of 10 live in poverty.
"We are very happy that they have given us this victory that the town needed beyond the socioeconomic problems we are having," said Gabriel Fernández, a 42-year-old artisan, while celebrating his victory surrounded by his family in a Buenos Aires park.
On a scorching summer day, the Obelisk in downtown Buenos Aires quickly began to fill up with people as thousands poured into downtown to celebrate.
Shortly after the end of the match, the subway became a party as fans filled the cars, singing, chanting and jumping for joy as they made their way to join the celebrations at the Obelisk.
"Taking Leo Messi's hand, we're going to get to the end", the audience chanted as euphoria took over.
___
AP World Cup coverage: https://apnews.com/hub/world-cup and https://twitter.com/AP_Sports