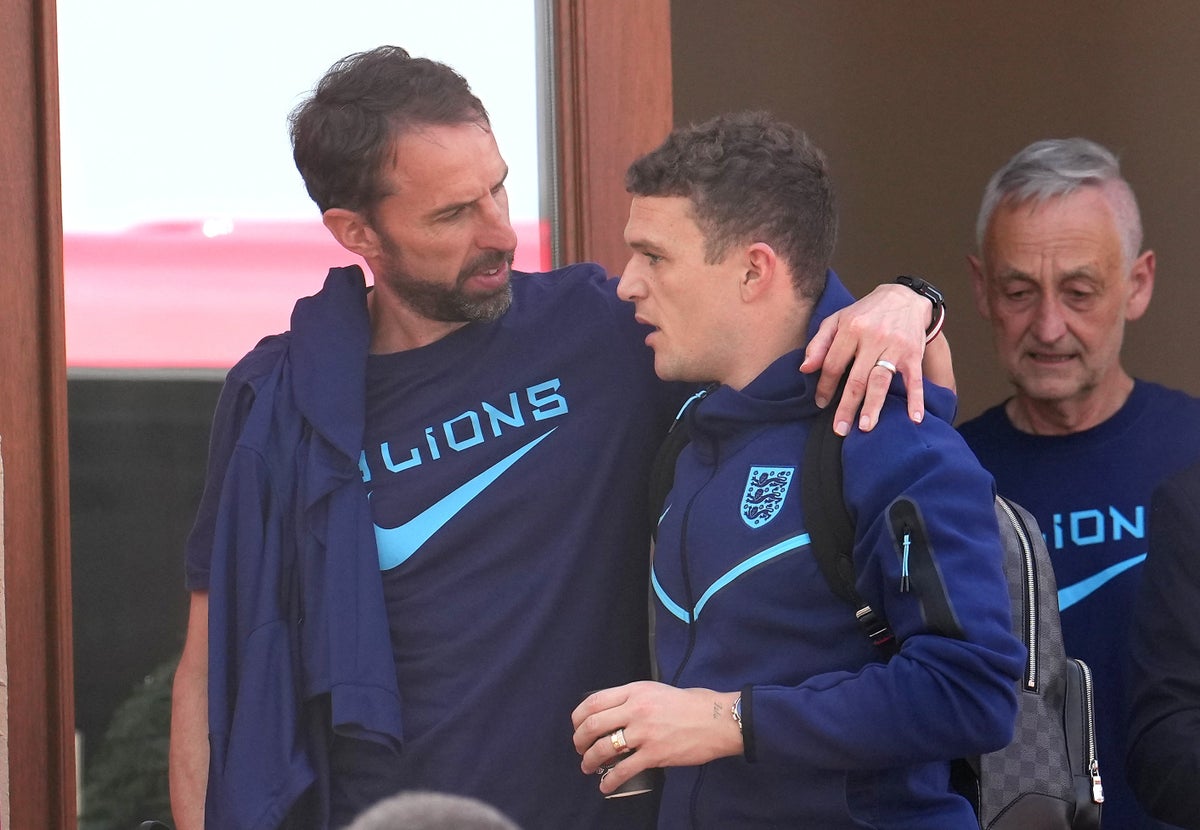 England team land in the UK after World Cup quarter-final loss to France
England have touched down back in the UK from Qatar with their 2022 World Cup dream over, following Saturday night's 2-1 quarter-final loss to France.
After three major tournaments in charge, manager Gareth Southgate is now considering his own future: stopping short of clarifying his plans immediately after the loss and later admitting he is "conflicted" about whether to stay or resign and is wary of doing' the wrong call.
England came out of the World Cup in heartbreaking fashion, as captain Harry Kane scored a penalty to equalize after Aurelien Tchouameni's opening goal but, after Olivier Giroud put Les Bleus back in front, Kane squandered his second chance from the penalty spot to send the Three Lions crashing out in the quarter-final stage and claimed afterward that the exit was his own fault.
Meanwhile, the referee's performance was criticized and fans of the England national team altered their Wikipedia page in response to his performance.
Follow updates on the future of Southgate and reaction to England's World Cup exit, as well as the latest Qatar 2022 news below:
1670834204
'The ref is a joke!': England vs France referee criticized after World Cup elimination
The Three Lions' first complaint came during the first half in the build-up to the opening goal of the World Cup quarter-final for Les Bleus.

Bukayo Saka protested a foul after Dayot Upamecano's tackle, but play continued and Aurélien Tchouaméni soon opened the scoring.

Sampaio conceded two penalties for England, the second following a VAR review. Kane conceded the first penalty before a second shot over the crossbar, proving crucial to England's elimination.

luke bakerDecember 12, 2022 08:36

1670833333
England team return to UK after World Cup elimination
An average audience of 20.4 million viewers watched Les Bleus crush the tournament dreams of the Three Lions, winning 2-1 at the Al Bayt Stadium in Qatar on Saturday night.

The players were greeted with applause as they left Birmingham airport on Sunday, December 11. Footage shows Jude Bellingham's car slowing down so the midfielder can high-five a young fan.

Watch England land back in the UK:

England team land in the UK after World Cup quarter-final loss to France

luke bakerDecember 12, 2022 08:22

1670833176
Gareth Southgate wary of making a 'wrong call' on England's future after World Cup knockout against France
The 52-year-old said he has found it "difficult for much of the last 18 months", especially the criticism and booing at Molineux during a 4-0 loss to Hungary in June.

While Southgate said he has enjoyed most of the last few weeks in Qatar and has no regrets given the nature of the performance against France, he revealed that he is still not over the Euro 2020 final loss to Italy and wants to make sure that he has the "energy" for another campaign.

The England manager said he would not be making any decisions for the foreseeable future as he wants to do so with a clear head and no regrets in any way, at which point he will sit down with the Football Association (FA) and discuss it. .

Read exactly what Southgate had to say about his future as he ponders where he stands:

luke bakerDecember 12, 2022 08:19

1670832749
England exits the World Cup in the quarter-final stage against France
Like so many times before but, really, in a totally different way. England were ultimately knocked out of an international tournament after missing a one-star penalty, but this wasn't a shootout, and it wasn't a case of Gareth Southgate's side being outplayed in midfield. It wasn't even a player of the stature of Kylian Mbappé who was embracing them.

Instead, England were arguably the superior team in this 2-1 loss to the French, who are still world champions. The Southgate team had equally good chances. They had some of the best games.

They just didn't have a lot of luck or, if you want to be tough on the ref, which many will have, some of the pivotal decisions.

And that meant the biggest opportunity of all, the chance to knock out the highest-class side in a key game, was also missed. Peace of mind will be that England made them look far inferior to that in a fine performance. The reality that matters most is that they came out again at the quarterfinal stage.

Report of Miguel Delaney's Saturday night match in Doha:

luke bakerDecember 12, 2022 08:12

1670832638
Harry Kane takes responsibility for World Cup exit
The Tottenham Hotspur striker similarly added that he would retake the second penalty and took full responsibility for his mistake, which saw England squander a second chance to equalise, saying it was their fault and due "purely to the execution. ".

"I'm someone who prepares to take one or two penalties in the same match," he added. "So I can't blame my preparation.

"I felt just as confident in the second as in the first, but it was 100% execution. Which is my fault. Obviously it hurts now and it will hurt for a while, but it's part of being the captain and leader of the team. You have to take responsibility and I take it today."

More from Kane here on his penalty, and on England manager Gareth Southgate:

luke bakerDecember 12, 2022 08:10

1670832317
World Cup 2022 LIVE: England team land in UK as Gareth Southgate 'conflicted' over future
Good morning and welcome to the independents Live blog of the World Cup reaction as the England team land in the UK and Gareth Southgate continues his future as manager.

The Three Lions were defeated in the quarterfinal stage by France on Saturday night, leaving Didier Deschamps' team to advance to face Morocco in the semifinals, with Argentina taking on Croatia in the other quarterfinal match.

We have all the news and latest updates.

luke bakerDecember 12, 2022 08:05