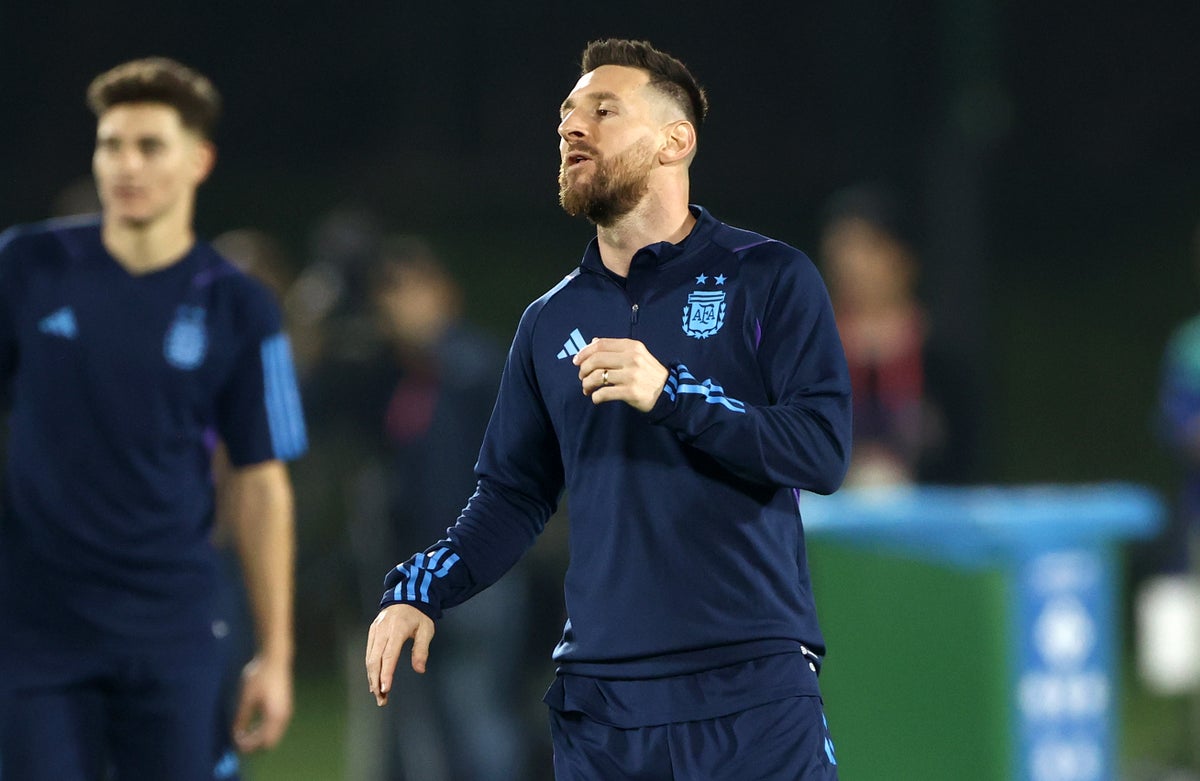 World Cup: France defeats Morocco and organizes an exciting final against Argentina
Lionel Messi has the weight of a nation on his shoulders as he prepares to lead his Argentine team in the 2022 World Cup final against defending champions France on Sunday.
Messi seeks to be better than eight years ago when he lost the biggest prize in football at the hands of Germany; Argentina will be full of confidence after a resounding 3-0 win against Croatia in the semi-finals.
Meanwhile, France overcame a courageous challenge from Morocco in the semi-finals to reach a second successive World Cup final, with Kylian Mbappe looking to guide his country to another historic triumph as they try to become the first team in 60 years to come back to win. Consecutive World Cups.
Elsewhere, Morocco have their sights set on a medal when they face Croatia tomorrow in the third or fourth tie-break in Qatar.
Follow the latest Qatar news and reactions, plus build-up to Sunday's World Cup final between France and Argentina on our live blog below:
1671183422
Luka Modric denied final masterpiece, but leaves World Cup stage with his greatness assured
His final contribution brought the utmost indignity. The byword for accuracy was hit in the face by his own shot. It is true that he bounced off Alexis Mac Allister and Luka Modric could not do anything about it. The winner of the Ballon d'Or in the last World Cup, however, ended up with the ball in his face in this one.

And that, except for a tiebreaker for third place, was Modric's definitive participation on this stage. His number went up seconds later; indeed, with him the white flag had been hoisted. When the captain came out, it was all over for Croatia. They were 3-0 down. He had regained control of a World Cup semi-final, each of his passes asserting control with a characteristic combination of grace and intelligence, but that was four years ago against England. There was no repetition. Modric may feel eternal, but his time is up in the World Cups.

Everyone knew it, the Argentine fans who joined in the ovation when Lovro Majer replaced him, his former Real Madrid teammate Ángel Di María, who looked for him after the final whistle, the already retired Sergio Agüero who came to offer his condolences in the tunnel . Argentina had won gracelessly against the Netherlands in the quarterfinals; when it came to Modric, however, they recognized greatness. Perhaps it was the parallelism with Lionel Messi, with the other veteran in his World Cup final; turn the result upside down and others would have pitied him. One way or another, sadness was a certainty.

michael jonesDecember 16, 2022 09:37

1671183122
Luka Modric's last hurray?
Luka Modric is set to play his final World Cup match on Saturday as Croatia defeat Morocco and add a third World Cup finish to their 2018 runners-up medals.

At 37, Modric is unlikely to appear in another World Cup, meaning his last hurrah will be against Walid Regragui's men.

"Croatia played the last final and they have good players, like Luka Modric," Regragui said. "He has something in him, but we will stay focused on our players. I have a lot of good players and if my team stays focused only on Modric, it will be a big mistake."

"It's important that we play our football, Moroccan football with a positive attitude and give it our all. After this match I hope we don't regret it. That's important for our team."
michael jonesDecember 16, 2022 09:32

1671182822
Regragui on facing Croatia again
More from the Morocco coach, Walid Regragui, who has been giving a press conference this morning before tomorrow's tiebreaker.

Asked to share what he learned from the first game between his team and Croatia during the group stage, he replied: "We knew that Croatia was going to be one of the best teams in the competition.

"After the first game we noticed that our performance was very good and we had a lot of people saying that Croatia was coming to the end of a cycle and that we could sweep the rug from under their feet.

"We know Croatia got a lot of attention because they couldn't beat Morocco, who were destined to be the underdog. Now we've both reached the semi-finals."

"I think tomorrow will be very different from the first game. There was a lot of respect, preparation and hesitation during the first game. But tomorrow, both sides have had a lot more playing time."

"Hopefully we can put on a good show by the end of the tournament. There will be good tactics and both teams will be there to win it. I think it will be a more open game." From both sides."

michael jonesDecember 16, 2022 09:27

1671182522
Morocco evolves but cannot advance while the unforgettable dream of the World Cup ends
Impenetrable for so long, Morocco were first forced to participate and then thrived as a more nuanced version of themselves before proudly retiring at the hands of defending champions France.

Cheered on by Walid Regragui and adopting such a determined style off the ball, their game plan fell apart within five minutes of this absorbing World Cup 2022 semi-final.

Les Bleus mercilessly applied a pin to what was a burgeoning atmosphere full of whistles revolving around a hostile Al Bayt stadium packed with Moroccan support.

The world champions happily bantered the Atlas Lions, gently pushing what had been a challenging cape in front of Yassine Bounou's goal. First through Ibrahima Konate, instead of the ailing Dayot Upamecano, and then Raphael Varane, who watched and probed from the start as Regragui's men retreated into that familiar shell.

And Morocco was soon completely deflated after a blue flash was launched into mid-space; Jawad El Yamiq was forced to take a bite, leaving Antoine Griezmann spinning in the space left behind.

michael jonesDecember 16, 2022 09:22

1671182222
'We have to clear our heads'
The third-place playoff is an unnecessary game featuring two teams that suffered a huge disappointment by failing to make it to the World Cup final.

It creates a confused and unfocused mindset to play in, but being the third best team in the world sounds a lot better than being fourth, as crazy as that statement sounds.

That means there is still something to play for when Morocco and Croatia meet on Saturday and Walid Regragui has been emphasizing that to his players by saying:

"We need to clear our heads a bit. When you play a semi-final, and it was the first in a World Cup, emotions run very high. It was quite difficult to come out of that game."

"However, my players still have an appetite. They want to finish well and they know they still have a game with everything to play for. They have understood what is at stake."

"Obviously it's not the same to finish third as fourth and it would be great to take home a medal. We want to make sure we finish well and my players have digested the defeat against France.

"They have their heads around the fact that they are part of the best teams in the world. We need to clear our heads and go into this game with our heads held high."

michael jonesDecember 16, 2022 09:17

1671181922
Regragui talks about the play-off for third place
Morocco has been the outstanding team of the tournament. They topped their group before knocking out Spain and Portugal from the knockout rounds on their way to becoming the first African nation to reach the semi-finals.

Head coach Walid Regragui has been speaking ahead of his country's third-place match against Croatia on Saturday and says his players are excited for one last outing despite being disappointed to miss out on a place in the final.

"I think it's the worst game we've ever played," Regragui said. "But we're still excited to play it despite the disappointment.

"Obviously we would have liked to be in the actual final, but there is a third place we are playing for. We want to finish on the podium."

"It's going to be quite difficult with the fatigue, but there are also mental hurdles that we need to overcome. We know that Croatia will also want to finish third. We played them in our first game, so it will be a good finalist. It won't be a walk in the park. ".

michael jonesDecember 16, 2022 09:12

1671181668
World Cup 2022: latest news and updates from Qatar
Good morning and welcome to the independents coverage of everything related to the World Cup. The 2022 edition of the tournament is heading towards its conclusion with just two games to play.

Morocco takes on Croatia in the match for third place on Saturday before Argentina and France go head-to-head in the grand final on Sunday afternoon.

The defending champions ended Morocco's valiant run at the tournament to set up the possibility of back-to-back World Cup victories, while Lionel Messi will have a chance at redemption after losing in the 2014 final to Argentina.

France are bidding to become the first team in 60 years to win back-to-back World Cups, while star striker Kylian Mbappe has reached his second World Cup final in as many appearances aged just 22.

Argentina reached the final after defeating Croatia on Tuesday night following another inspired performance from Messi. The 35-year-old has confirmed that Sunday's final will be his last game at a World Cup. Will he retire from the international stage on a high after finally winning soccer's biggest prize?

michael jonesDecember 16, 2022 09:07