Sports
Ja Morant injury update: Grizzlies star says his status for Game 2 is in jeopardy after sustaining a hand injury
Ja Morant could be sidelined in a crucial Game 2 matchup against the LA Lakers on Wednesday. The reason for this is due to an injury he suffered in Game 1. Morant tried to posterize Anthony Davis during an important offensive possession down the stretch. But it turned out that it was not the best idea. Morant injured his right hand on the play. He left the game and did not return.
The sequence of events occurred with 5:56 remaining in the fourth quarter. Ja Morant got past Jarred Vanderbilt in the paint and tried to nail Anthony Davis. Morant was hit from behind by Vanderbilt and also lost the air battle against Davis.
This led to Morant landing awkwardly on the ground, causing him to overextend his already battered right wrist. Fortunately, the Memphis Grizzlies star's X-rays came back negative. That means Morant will likely return on the series. However, she is considered questionable for Game 2. Morant admits his right hand is sore and his chances of playing are "in jeopardy."
•
---
Did Ja Morant's exit in the fourth quarter lead to the Game 1 loss of the Memphis Grizzlies?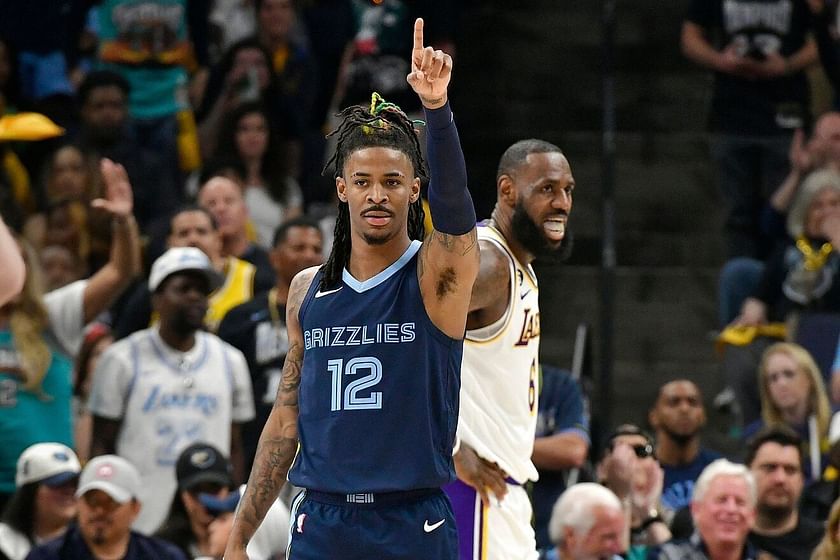 The Memphis Grizzlies suffered a humiliating 128-112 loss at home to the Los Angeles Lakers in Game 1. Jaren Jackson Jr. did everything he could to keep his team in the game. He had 31 points, five rebounds, four assists, two blocks and one steal. Ja Morant also had a great game before his injury. He had 18 points, six rebounds, two assists and two steals.
If Morant had not been injured in the last six minutes of the game, the result could have been different. Did the Grizzlies' morale suffer as a result of the point guard leaving in the fourth quarter? Desmond Bane and Dillon Brooks were the only other options when Ja walked out of the contest. Unfortunately, the Grizzlies' supporting cast didn't step in in his absence.
The LA Lakers, on the other hand, had five players in double figures. It was clear that the Lakers were the better team. They took advantage of Morant's absence and sealed the victory with a flurry of well-timed baskets.
The Lakers have a chance to take a commanding 2-0 series lead when they take on the Grizzlies on Wednesday for Game 2. Kickoff is scheduled for 7:30 pm ET.